c3_spine_plugin
Spine plugin for construct 3
---
Project maintained by gritsenko
Hosted on GitHub Pages — Theme by mattgraham
Spine add-on for Construct 3
Important notes for Spine export files:
Requires Spine version 3.8+ JSON files. See Spine Formatter below to upgrade older JSON files.
In the Spine export dialogue box, under Runtime, set both 'Filter min' and 'Filter mag' to Linear.
Max texture size, limited to one sheet of 4096x4096. Multiple texture sheets not supported.

Additional Spine project guidelines:

For jumping or large movments, animate Spine character 'in place', don't do large translations in the Spine project.
Use C3 events and movement to do the large translations in the C3 project instead (e.g. a long jump.)
If animation is clipping against the bounds of the C3 object, you can use the scale property to make the Spine render smaller
Alternatively create a large transparent image in the Spine project behind your Spine character, this will can be used to set the bounding box size fot the C3 spine render.

Share your C3 and Spine plugin work!

Tweet your work @kindeyegames , @pix2d and #construct3, we'd be happy to see your work!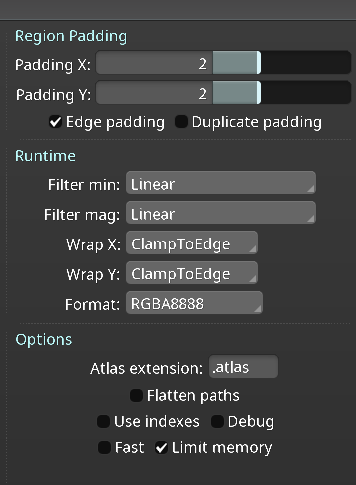 Add-on based on Mikal's sample from this thread:
https://www.construct.net/en/forum/construct-3/general-discussion-7/spine-animation-js-template-145940
Warning
To use this add-on you must uncheck "Project/Advanced/Use worker" option. If this is a big concern, leave a comment in the github issues (in general C3 worker mode currently changes to non-worker mode for C3 mobile projects.)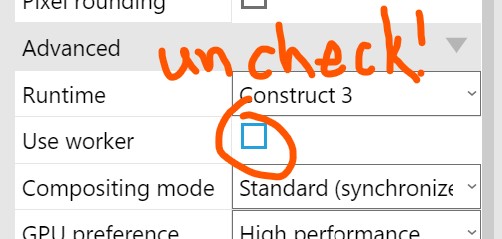 Downloads
LIVE DEMO
https://gritsenko.github.io/c3_spine_plugin/docs/LiveDemo/index.html
Spine Formatter (3.3+ to 3.8 JSON Format)
Useful for Dragon Bones Spine JSON export and earlier Spine versions. https://gritsenko.github.io/c3_spine_plugin/formatter/index.html
Current supported features
Load Spine json, atlas and pngs.
Select starting skin, skeleton, animation
Dynamically set existing skin defined in JSON
Mesh Deformations
Animation set, play, pause, trigger on animation complete.
Animation finished, animation playing conditions.
Default mix interval for blending animations.
Dynamic animation speed control.
Dynamic region changing for current skin attachments.
Events to trigger C3 triggers.
Wishlist
SkeletonData single type instance and multiple skeleton instances per Spine object / instances (save texture memory for mutiple instances of one skeleton.)
Release notes
1.7.0: Add event trigger ACE (trigger when animation event occurs.)
1.6.0: Add Set region action (change region(texture) of an attachment in a slot on the current skin. Useful for character customization.